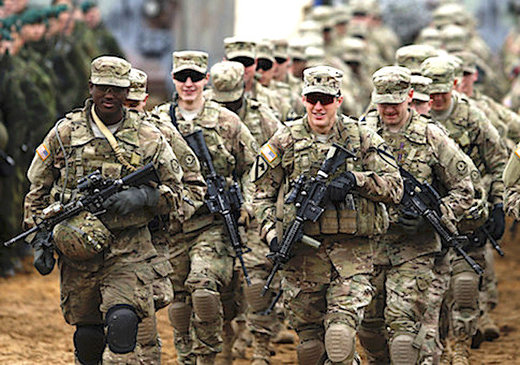 I guess WordPress is censoring Youtube videos as I keep being told that the file type is no longer supported. Guess I need to go elsewhere and buy a domain, get back into building web pages and build my own site there. Pretty sorry this Administration wants to suppress truth. You can click the link at least still and go view the vid at its site.
The troops' deployment coincides with the deployment of 300,000 NATO troops that have been on "high alert" since last month. Is this a sign that Cold War 2.0 will go hot in 2017?
Since tempers first flared in 2014, tensions between Russia and the US have nearly boiled over on more than one occasion. However, recent NATO and US army actions along with a surge in anti-Russia propaganda throughout the Western world, suggest that these tensions will only escalate in the months ahead. Last Friday, new US tanks and armored vehicles arrived in the Netherlands, where they will be deployed to a storage facility in the province of Limburg to serve as part of the Army's "strategically prepositioned critical war stock." These tanks and other military assets are intended for use by the US Army's recently announced deployment of 4,000 American troops and around 2,000 military vehicles along Russia's border. The deployment breaches the Russia-NATO Founding Act of 1997, which states that NATO would not seek "additional permanent stationing of substantial ground combat forces" in nations closer to Russia.
The troops and vehicles will be stationed on a rotational, yet permanent basis in several countries that border Russia, such as Poland, Romania, Bulgaria, and Baltic nations. Yet, the most provocative aspect of all of these deployments was the stationing of an American battalion in Poland near the border of Kaliningrad, Russia's enclave in the Baltic. The deployment comes as part of a $3.4 billion new spending plan intended to boost NATO forces in Europe, authorized by the 2016 National Defense Authorization Act (NDAA). The US military currently boasts over 62,000 soldiers that are permanently stationed in Europe. Gen. Frederick Hodges, the commander of the US army in Europe, said that "these activities are the embodiment of the United States' commitment to deterring aggression and defending our European allies and partners." However, considering the massive deployments that have already taken place in addition to those recently announced, it becomes increasingly difficult to peg who the real aggressor is – NATO or Russia.
The NATO build-up along Russia's border has been on-going since the Ukrainian coup of 2014, when accusations of Russia's supposed "aggression" first surfaced. However, this year has seen some major escalations on this front, suggesting that the "Cold War 2.0" could go hot if the right crisis emerged. In October, Norway announced plans to allow the US Marines to station within its borders for the first time ever amid concerns of Russian "aggression" despite that fact that Russia has not once threatened any Scandinavian country or NATO member. Then, last month, one of the most disturbing build-ups of all took place when NATO announced that it had placed 300,000 troops on "high alert" with plans to have those troops ready for deployment by next month. This provocative move then pushed Russia to deploy nuclear-capable missiles to its Kaliningrad enclave. Considering that this latest deployment of US forces will also take place next month, the pieces will certainly be in place for a potential and unprecedented escalation of hostilities between NATO and Russia.
Comment: The US-NATO's deliberate provocation, at this stage in the Obama exit, is troublesome in that any active aggressiveness on the part of the West will try to tie Trump's hands.